The warehouse is a living specimen. Without one worker in the team, the supply chain will falter. With that being said, the importance of a general warehouse associate cannot be undermined. Responsible for several tasks and duties, a general associate remains to be one of the most vital employees in the warehouse setting.
What is a General Warehouse Associate?
The general warehouse associate is responsible for all the aspects of warehouse operations. These include the receiving, storing, preparing, handling, and shipping of items and goods. At the same time, the general warehouse associate is in charge of keeping the workplace organized and safe.
General Warehouse Associate Job Description
As the overseer of most warehouse operations, the general warehouse associate has several duties and responsibilities under his belt. These include:
Receiving
Receives goods and items delivered to the warehouse.
Examines the merchandise and the quantity, to ensure that they reflect those written on the delivery sheet.
Rejects damaged items and reports any delivery discrepancies.
Storing
Encodes the number of added/deduced items into the centralized inventory system.
Places identification marks and labels to the organized inventories.
Organizes the received items accordingly in shelves or other storage areas.
Preparing, Handling and Shipping
Loads or transfers items from one area to another.
Prepares items and goods for shipping.
Creates documents for billing, shipping, etc.
Checks the package for delivery to ascertain accuracy of the parcel for shipment.
Maintenance
Keep the warehouse safe, clean, and organized as per OSHA requirements.
Ensures warehouse equipment and machines are in good working capacities.
Reports machinery defects and facilitates needed repair or maintenance works.
General Warehouse Associate Educational Requirements
The educational requirement for this warehouse job is rather basic. Applicants need to possess a high school diploma or a GED equivalent. Of course, familiarity with the warehouse and distribution processes is a plus factor.
General Warehouse Associate Physical Requirements
Warehouse jobs dwell on physical and mental strength. In order to land a job as a general warehouse associate, an applicant needs to possess the following features:
Skill to lift or move up 50 pounds worth of weighted items without assistance.
Ability to tolerate prolonged standing, lifting, walking, pushing, and pulling.
Good vision abilities, i.e. close, peripheral, and distance vision; focus and depth perception.
Capability to climb ladders to the topmost level.
Capacity to withstand varying temperatures inside a warehouse.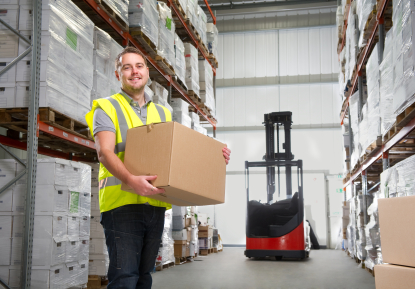 General Warehouse Associate Competencies
As the Jack of all trades, a general warehouse associated needs to be competent in several aspects. He needs to have good reading skills, as he will spend most of his time reading delivery documents, customer orders, and shipping waybills, among many other papers.
Math, abstract, and reasoning skills will also come in handy, as he will perform inventories and other calculations on the warehouse floor.
Apart from these fundamental must-knows, a general warehouse associate needs to be able to understand and carry out instructions. As a subordinate of warehouse leaders and managers, he needs to interpret their commands and directives with accuracy and efficiency.
While all these competencies are important, an important thing that a general warehouse associate has to possess is the complete understanding of the warehouse process. He needs this essential information in order to execute all his tasks correctly and appropriately.
Likewise, a general warehouse associate needs to be proficient in operating common warehouse equipment and machinery, such as handheld devices and bar-coding equipment. A certification in operating such equipment will be advantageous for those in search of well-paying warehouse settings.
Have you got all that it takes to become a general warehouse associate? Waste no more time! Find yourself a challenging warehouse job today and be able to reap the rewards of this fulfilling job opportunity.